This proactive, practical guide is unlike any self-help book you've ever read. It's not about simple motivation or inspiration; that stuff only matters if you have a plan. Me, Inc. is designed to help you develop that plan and then execute it to perfection. It's not a generic, one-size-fits-all program, but a personalized system for improving your life and filling it with purpose, meaning, and contentment.
In Me, Inc., business consultant and executive coach Scott Ventrella shows you how to achieve unlimited success by incorporating the basic principles of good business into everyday living. He starts by sharing the ten time-tested principles that guide most successful and enduring companies and shows you how to apply them to your life. Once you understand those principles, Ventrella helps you design your own custom "exceptional living plan" — much like a business plan — that will guide you on the road to an exceptional life.
What if you were the CEO of a mediocre company? Would you just sit back and let the business plod along on a road to nowhere? Of course you wouldn't. Any competent CEO would get proactive and start developing and implementing a plan for success. Now think about your life. Isn't it just as important as any business?
Over the course of twelve "milestones" and accompanying exercises, you'll learn what you want and why, create your custom exceptional living plan based on your ultimate goals, use that plan as an everyday guide to living, and learn how to maintain your momentum and stay on track. You'll take stock of your most important "clients," gather feedback on your actions, set goals and priorities, and implement plans for change and constant improvement. Rather than float through life, you'll take control, be your own boss, and steer You, Inc. into the black.
You only lead one life, so why lead an average one? Me, Inc. will show you how to stop living by accident and start living on purpose. When you embrace your role as CEO of your own life, you'll live with enthusiasm, determination, purpose, and confidence. If you want to achieve your goals and dreams, now is the time to take charge and be the boss.
The Me, Inc. program begins with an introduction to the ten business principles of successful, enduring companies that you can apply to your daily life. Then it gets you started developing a business plan for your life — the achievable, highly personalized Exceptional Living Plan that will enable you to move from the life you have to the life you want and deserve. You'll begin by figuring out exactly what "the life you want" looks like. Next, just as a company would do, you'll determine who your most important "customers" are and gather feedback from them on how you can improve. You'll set priorities and goals, collect data to determine how you're doing, and make specific plans for implementing change.
The real beauty of this program is that it works. It has been tested and proven to bring about lasting results not only by the clients I've coached but also by the hundreds of students who have taken my standing-room-only classes. Unlike other similar programs on the market, Me, Inc. takes a highly proactive, no excuses approach to self-improvement . In other words, you won't just sit down and think about how to change your life for the better, you'll actually do it. What's more, this program doesn't offer a generic, one-size-fits-all plan. On the contrary, Me, Inc. will give you the guidance and hands-on tools you need to develop a plan that you write, which is based on your values and priorities, and which works within the framework you determine according to your timeline. When you follow Me, Inc., you become the boss of your own life. Soon, you'll find yourself leading an exceptional life — a life filled with purpose, meaning, and contentment.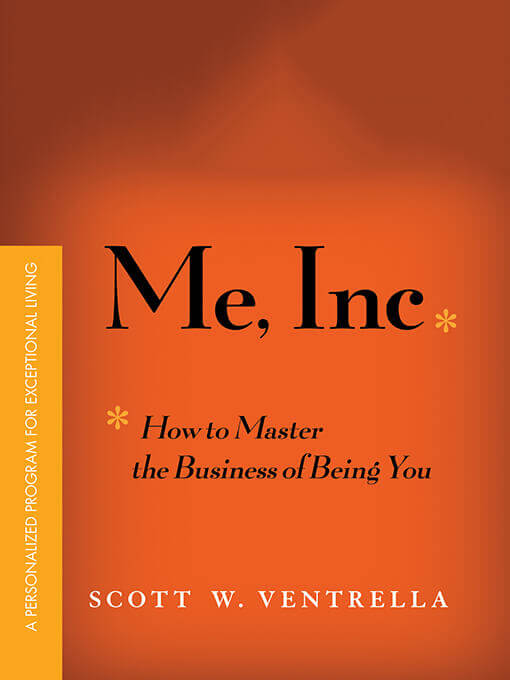 What They're Saying About Me, Inc.
Because of this program I am a better manager of my life, and I appreciate life more. I will pay more attention to everyday qualities like beauty, intimacy, community, and creativity, which will help me feel empowered. Alexandra
Me, Inc. helped transform me into this new version of myself who today is more sensitive to my own personal goals and planning for my future because, finally, I have found a method to help organize my life for the better. Greg
Until this program, I never thought about the tradeoffs and sacrifices that needed to be made in order to achieve (my) professional goals. This has forced me to review my goals to ensure they are aligned so I can balance all of the changes going on and manage a happy lifestyle. Kim
Me, Inc. has changed my life in such an amazing way. I cannot thank you enough. My life, my relationships, and my focus is so much better as a result. Thank you! John